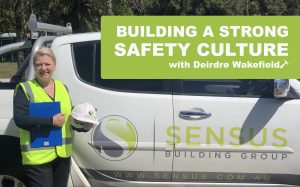 As part of Safe Work Australia Month we sat down with our Client Relations Manager, Deirdre Wakefield to discuss her tips on building a strong safety culture.
---
Let's face it, the only way a business can achieve true success is with a strong safety culture. I'm proud to say that at Sensus, safety is our number one priority. On-site, in the office or at home, Sensus employees are committed to staying safe.
We've worked hard to cultivate an environment where our team members are involved and invested in their safety and of those around them. They know if everyone works safely they can go home to what's important to them.
Here at Sensus we've built long-term relationships with our tradespeople and subcontractors. This gives us the continuity to ensure they're trained to follow both ours and our client's protocols, plans and processes.
We're committed to:
• Achieving our goal of ZERO LTIs for this financial year.
• Creating WHS Kits for all sites. Inside you can find: fire extinguishers, first aid, the latest safety news/requirements, and WHS SWMS JSA and Safety Plans.
• Providing a onsite sign-in form at each work space in case of emergencies. These are recorded for the length of the works.
• Ensuring all staff are police checked and inducted to Sensus safety culture prior to starting any works on sensitive sites.
• Proactively creating a R U OK? culture ensuring that everyone across the business takes the time to look out for each other.
We are always researching news way we can continuously improve our safety commitment – whether it's at our employee's initial induction, specific safety training, or pertinent re-training. Working in areas of high sensitivity we understand and apply our client's in-house safety plans and induction programs.
It's pretty simple really. Taking safety seriously is the cornerstone of any successful business. If you're looking for a builder who knows safety is the number one priority, you're in safe hands with Sensus.
---
Interested in how Sensus can help with your next project?
Let's discuss how we can work safely together. Contact me today on 0429 395 841 or
d.wakefield@sensusbuildingservices.com.au
Interested in what else has been happening at Sensus Building Group? View our latest news stories here.