When QLD and NSW borders closed again this winter our construction experts acted safely and quickly to keep projects on track.
Gold Coast based Sensus Project Manager, Brendon Horne was in the middle of Northern NSW retirement living unit renovations when the latest set of border closures came into effect.  
By working safely and strategically, Brendon seamlessly managed the continuation of works and delivered the Northern NSW retirement living independent unit renovations on time.
"Our trusted team of interstate in-house tradies and subcontractors worked together to ensure the projects were delivered on schedule," says Brendon.
With border restrictions in place Brendon also used technology as a valuable tool.
"We used Facetime to conduct client handovers. Even though I couldn't physically be there we could still discuss the jobs in detail with our client," said Brendon. "The team were pleased to deliver the building works to the original timeline despite the border closures," says Brendon.
Brendon keeps the safety of the retirement living clients top of mind by ensuring team members on site are up to date with vaccinations, socially distance and wear masks when appropriate.
It's a great example of keeping safety top of mind. A timely reminder as October is Safe Work Australia month. It's an important opportunity to highlight our team's commitment to strong safety practices.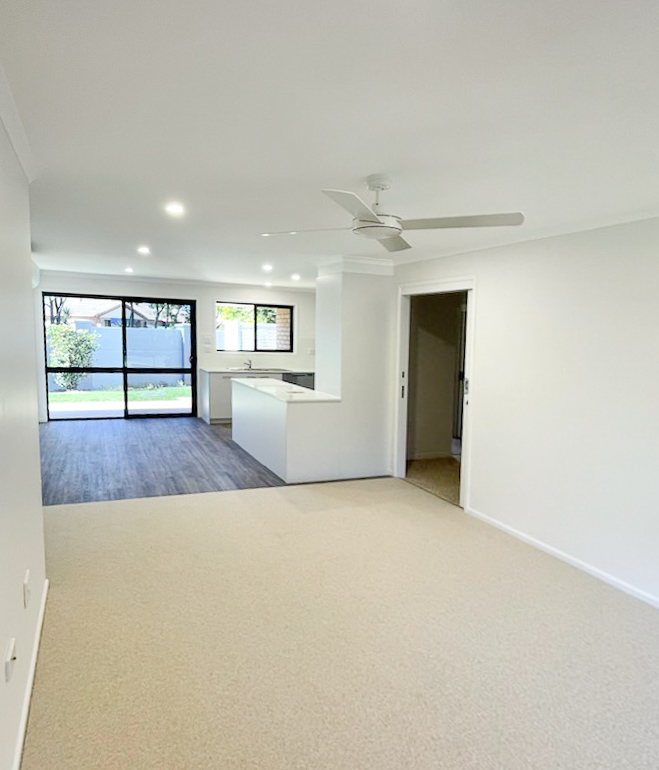 Project Highlights
Complete renovation including all new flooring
Upgraded lighting from oyster lights to all new LED downlights
Zero transition flooring in the bathroom
Disability accessible sink and grab rails
New kitchen including custom joinery
Air conditioning units and ceiling fans
Concrete slab in the backyard
Queensland's Design & Construct Experts
We understand retirement living communities and are proud to deliver a high-quality product every time. Sensus Building Group believes in achieving superior results for our clients. To discuss your next retirement living project please contact us on 07 3205 8000 or office@sensus.com.au
Want to see more of Sensus Building's Group latest news? You can view the latest projects and updates here.