One of the most exciting elements of working in construction is the opportunity to transform the environment around us.
The Sensus team of design and construction experts recently collaborated with our aged care client to maxmise an existing multi-purpose room by creating a quiet religious sanctuary.
"We worked with our Moreton Bay aged care client to create a flexible space," says Sensus Project Manager, James Lee. "A stand-alone worship centre for residents and their families while maintaining the flexibility to transform the room back into its original size when required."
To achieve this, the Sensus team proposed the installation of a large operable wall that would go through the middle of the 15m x 9m room.
The only issue was the roof needed additional support to hold up the wall.
"To reinforce the existing roof structure our team carefully installed a steel beam, almost 9 metres long, that will hold up the new operable wall in between the worship area and the rest of the room," says James.
In addition to building considerations, our tradespeople always also consider the 'human element' while on site. As an experienced aged care builder, our team know that residents still need to utilise connecting entrances and corridors.
"For the resident's safety and ease of use, our tradies put up a temporary partition to seal off the construction site. This allowed aged care residents and their families to access primary throughfares with minimal disruptions," says James.
Once the beam was installed the team moved on to the next stage of the internal works. This included installing 30 all new LED downlights, 8 energy efficient fans and carpet tiles throughout.
In the worship area, Sensus' handpicked sub-contractor Brisbane Custom Cabinets created bespoke cabinetry for the worship area. While our stonemasons delivered the alter stonework two weeks ahead of time.
"Residents will now have the opportunity to utilise both the newly created worship centre and their multi-purpose room," says James. "We are pleased to have collaborated with our client to deliver a renovation that has completely transformed this space."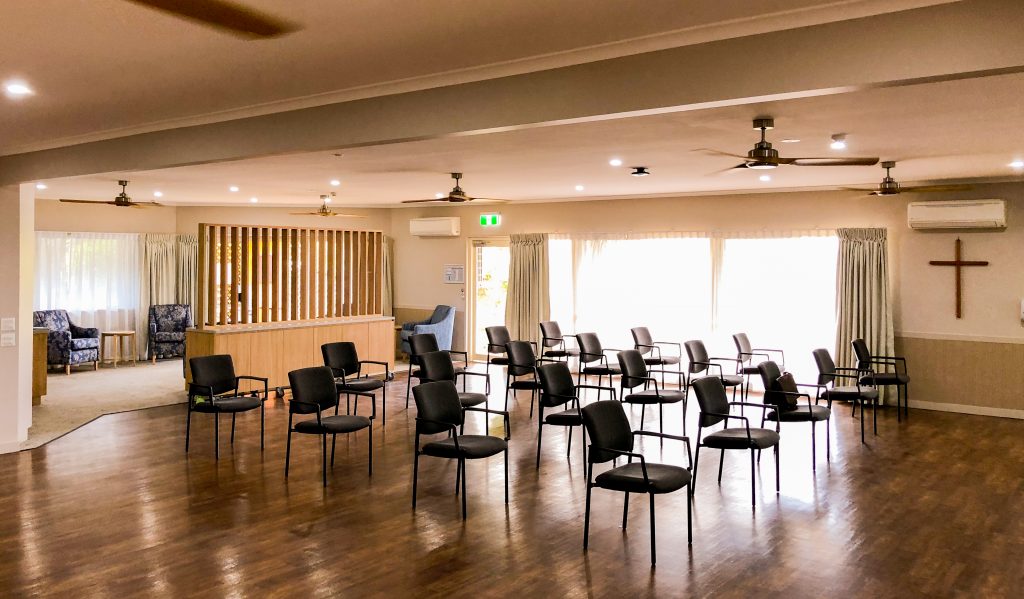 Queensland's Preferred Aged Care Builder
At Sensus we offer extensive industry experience extensively renovating aged care rooms, common areas, kitchens, and facilities. Our stringent Covid safety procedures ensure we deliver works in the safest possible environment. Contact us today to discuss your next aged care project at 07 3205 8000 or office@sensus.com.au
Interested in what else has been happening at Sensus Building Group? View our latest news stories here.