For more than a hundred years a Gympie Catholic Primary School has been a renowned centre of learning.
When the school's centre piece building, a heritage listed Queenslander, was earmarked for restoration the school knew Sensus was the right construction company for the job.
"Sensus has meticulously preserved historical buildings throughout Queensland," says Sensus Project Manager, James Lee. "Combine that with our team's extensive experience on education construction – and we were ready to bring the building back to its former glory."
The initial scope of works outlined replacing large north and south verandas.
"When I walked out onto the north deck for the first time, I could physically see how the deck had warped and dipped over the years. It was up to us to build a new, straighter deck that looked like it had always been there," said James.Replacing north and south decksSensus Building Group Project Manager, James Lee (R) and the team of education building experts50 metres of custom, heritage molded timber installed
When the team conducted their site assessment 30 footings and posts, and both of sets of stairs, were also earmarked for refurbishment.
"The safety of the students and teachers is our number one priority," says James. "By identifying and fixing any issues now, the building can be safely enjoyed by the school community for decades to come."
The team set to work – leveling out the deck by creating a subtle slope that aligned with the existing foundations.
Once that was completed, they installed 50 metres of custom, heritage molded timber that is completely unique to the building across the north and south decks.The team rebuilt the stairs keeping in-line with historical features30 footings and posts were completely refurbishedThe new stairs are safe and secure for the school community
While maintaining its heritage charm, several modern features have been discreetly added. These include acoustic pinboards, LED lighting, internal fans, bespoke heritage windows and custom painting.Modern features include LED lighting, internal fans, and custom paintingBespoke heritage windowsAcoustic pinboards
"We worked closely with a heritage architect to meticulously recreate original heritage windows. The attention to detail continued in the paint colours – brown and cream, shades used in the era the Queenslander was originally constructed," says James.
Our team were pleased to work closely with the senior structural engineers from Bligh Tanner, architects from Fulton Trotter Architects, and local Gympie sub-contractors to ensure every element of the job was completed to the highest standard.
The beautifully renovated Queenslander will certainly be a standout building for another 100 years.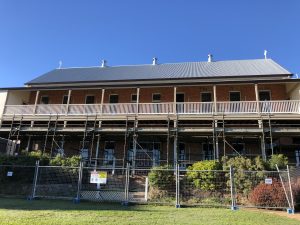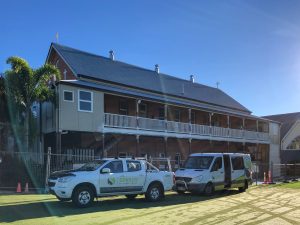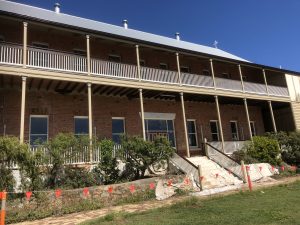 Constructing the Learning Centres of Tomorrow
Sensus Building Group believes in achieving superior results for our clients. We would love to discuss your school's next renovation project. To discuss please contact us at office@sensus.com.au
Interested in what else has been happening at Sensus Building Group? View our latest news stories here.